Die Konferenz #Fashiontech Herbst Winter 2020  – Experienence the Future of Fashion
Für die Konferenz Fashiontech Herbst Winter 2020 findet in Zusammenarbeit mit der Premium und der Seek Messen statt. Dafür dient der Rohbau des Aletto Hotels in Kreuzberg. Gegenüber der "Station-Berlin" mit rund 4.000 Bersucher/innen. Dort werden Themen wie Digitalisierung, Change Management und disruptive Technologien gesprochen. Es werden Produkte in Best Practice präsentiert und Masterclasses veranstaltet. Auf der Seek Messe findet ein zusätzliches Fashion Tech Studio statt.
Auf dieser Konferenz geben Experten aus verschieden Bereichen die Chance sich mit Ihnen auszutauschen und voneinander zu lernen. Start ups als auch Grober Player der Mode Industrie geben hier Einblick in Ihre Arbeiten. Alles dreht sich um das aufeinandertreffen von Mode und Technologie. Präsentationen, Roundtable Diskussionen und Workshops dienen den Besuchern zum fachübergreifenden Informationsaustausch der neusten Entwicklungen.
In den Stage Talk geht es diesmal um die neue Generation, gemeint sind einmal die zukünftigen Chefs der heutigen "Generation Z". Die Digitalisierung von Stores und deren Marketing hat die Priorität bei den Ausstellern. Es gibt viele neue Möglichkeiten für Marken sich mithilfe von Technik weiter zu entwickeln. Besonders bei der Marktforschung oder Kundenzufriedenheit kann sich demnächst viel ändern. Referenten von Labels wie Tommy Hilfiger und GANNI berichten über Ihren Umgang mit der neuen Situation des digitalen Zeitalter.
Aletto Hotel im Aufbau, genau wie die Zukunft.
Die internationalen Aussteller auf der Konferenz bieten ihre Innovationen in Marktforschung, Kundentransparenz und Brandimage an. Durch Kooperationen verschiedener Firmen miteinander ist es möglich das beste Produkt herzustellen als auch einen Rund um Zufrieden Kunde zu gewährleisten. Durch die Zusammenarbeit von Mode und Technik lassen sich neue Wege gehen.
Unter anderen sind auf der Konferenz große Firmen vertreten aber auch welche die noch unbekannt sind und nur darauf warten eingesetzt zu werden. Der Austausch auf der Konferenz ist aktiv und neue Kontakte kommen zustande.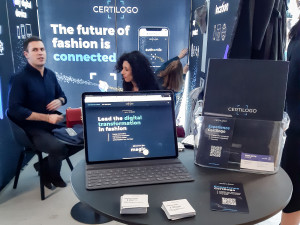 Certilogo ist ein Unternehmen das ein QR Code für die Labels in Kleidung zur Verfügung stellt, damit spätere Kunden diesen scannen können und im besten Fall über die Marke informiert werden, das Logo kann aber auch ein Plagiat ausmachen und gibt so zusätzlichen Käuferschutz. Dieser Code soll Transparenz bieten zwischen Kunden und Marken.
Alpha Tauri, die Telecom und die Schoeller Textil AG haben in
einer Kooperation eine beheizbaren Jacke und Weste vorgestellt. Gesteuert via App kann man Wärme an der Rückenpartie und Taschen steuern. Ein Luxus für den kalten Winter. Die Jacke ist sehr benutzerfreundlich, denn durch verschiedene Hitzestufen und andere Features, kann die Jacke ganz nach dem eigenen Empfinden eingestellt werden.
Durch die Zusammenarbeit der verschiedenen Branchen können neue Lösungen gefunden werden die unsere Zukunft positiv beeinflussen. Kunden können sich auf digitale Veränderungen einstellen.
Autorin und Fotos: Vanessa Tembrink 
# Fashiontech Konferenz in Berlin – Impressionen